Hello Beloved partner,
Greetings in the name of our Lord and Savior Jesus Christ; I pray all is fine. It is with a great sense of excitement and an overwhelming feeling of responsibility that I write these opening remarks.  
I am delighted and honored to yet again send you this short ministry report concerning our ministry programs for the month of October 2019. This report will hopefully define, the goals, direction, and atmosphere of the ministry I pray you will be blessed as you read through this report.
DISCIPLESHIP PROGRAMS.
There are many distinct groups of children and youth who need ministry to address their spiritual needs, but also need the attention of missiologists to help develop effective mission strategies. As an organization, we have taken on the initiative to reach and affect the lives of children, teens and youths in the communities and schools through the teen's life skill program to help address the different challenges children and youth face in their day today living. We believe that before we can begin to show children how to live their lives and what principles to build their lives upon, we must first lay a foundation. The only way we can lay a foundation in the lives of our children is to show them that God created them for a reason. It's for this purpose that we strive to help the children in the community bible clubs to understand that God made them In His Image, To Know Him, but also for a Purpose focusing on what the bible stresses on in Colossians 2:7 "Plant your roots in Christ and let him be the Foundation for your life."
PRAISE REPORT
There are over 5,000,000 People with disabilities living in Uganda according to the 2014 national census making for about 10% of the national population makes up the total number of people with disabilities. About 80% of children with disabilities in Uganda are not getting education because of their disability. For this reason, the disabled just make 0.2 % of the work force despite of the income tax makes a provision of tax incentives for employers of 5% or more people with disabilities.
This October marked 50 years since Kampala School for Physically Handicapped (KSPH), the first and only special boarding School of its kind, was founded. KSPH was the brain child of the Late Henry and Fayce Barlow, whom together with a few other Parents and Professionals formed Uganda Spastics Society to set up the facility. Their goal was to Educate, rehabilitate and Equip children with Cerebral Palsy for future development. Due to the overwhelming need, the school was opened to other children with various physical and mental challenges. Today, the school has an enrollment of 180 pupils in a loving family environment ranging from the ages 6 – 18 years, from all over Uganda and East African region.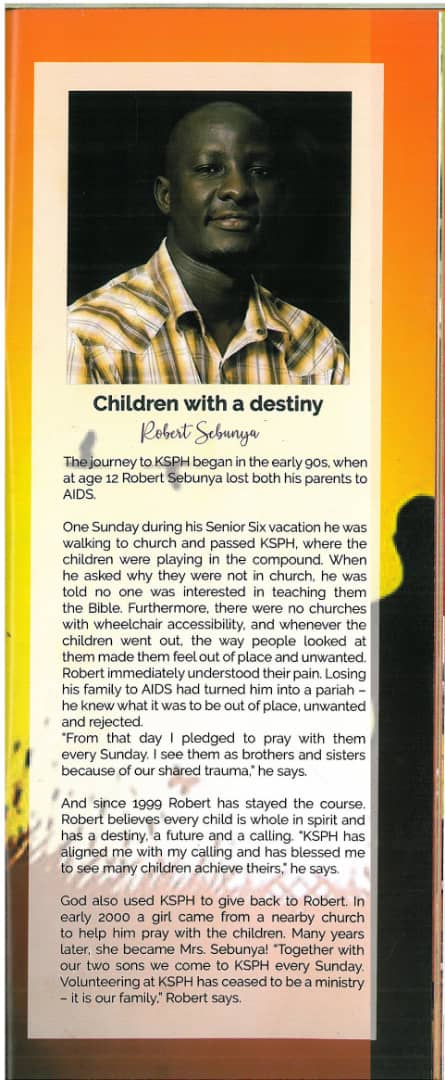 During the celebration Mr. Robert was recognized as the longest serving volunteer in the school having served for 20 years. His story was shared at the event and published in the School magazine that recapped the history of the school marking 50 years and eventually crowned with a specialrecognition and reward. He was commended for his commitment in laying a good foundation to support every child to productively develop their inner talents and abilities through life skill and spiritual trainings to attain maximum independence. For the last 20 years, Robert has served as the school chaplain teaching and mentoring the children every Sunday.
PRAYER REQUEST
Please as you pray for us, remember to specifically pray for
The upcoming Church Planters Training/program and children ministry programs

God to Continue sustaining the open doors to minister to the refugee camps in southern, central and northern Uganda

Also pray for a PA system for the Jesus film ministry in the communities and a ministry vehicle for upcountry programs.
We are so delighted for your continued support and we are grateful for the support towards the programs in Uganda. There is already enormous transformation and revival taking place and we believe in a short while, this transformation will not only be limited to the communities but the nation at large.
We never cease to thank God for your generosity but also pray that He continues to prosper you in all your endeavors.
Blessings
Robert