Greetings Beloved,

Calvary greetings in the name of Jesus; I pray all is fine. I am grateful for your commitment to visit and love to know more about our ministry activities. I together with the team, are grateful for all that you do and continuously pray for you for wealth, well being and success in all that you do.
We are privileged to once again share the ministry program accomplishments through this monthly update report through which we bring to you our ministry accomplishments. I pray this will encourage and cause you to desire to continue or subscribe to support any of our ministry activities through the different ways availed. This report and other ministry information are also readily available on our BlogSpot (www.mercylinkfoundationafrica.blogspot.com). So be free to visit the links and get to know more about us and the ministry activities.
MISSION TO RURAL COMMUNITIES
The rural communities have been the backbone of the ministry where many of our ministry activities are actively running. In our missions outreach to rural communities program this month, we were privileged to have been part of a community transformation outreach program in Pallisa District. Located in the Eastern part of the country, Pallisa is bordered by Budaka, Manafwa, Mbale and other numerous districts. Unlike other surrounding districts, Pallisa had been on our list of new districts to reach and with this opportunity; this brings the total of the districts of our operation to 12.
The Maizimasa Evangelistic Outreach
Located in Pallisa district, on this mission outreach, we engaged the community church leaders in a leader's seminar. This seminar attracted a total of 56 leaders from the community. Through this seminah, we trained the leaders on effective ministry using children and youth ministries, discipleship, community based projects and community health programs. One focus we entirely put our focus on was the issue of starting up a children and youth community bible club  in the community something we implemented at the end of the training establishing the first children Club comprised of 134 children and a youth club of 48 youths.
We crowned the four day event with a crusade and Christian movie shows attracting 813 locals from the community characterized by sessions of healing, deliverance and salvation for non believers.
Through the outreach, at least 2,100 tracts, 1,000 children and youth booklets were distributed and 213 people gave their lives to Christ.
MISSION TO URBAN COMMUNITIES
In our urban community ministry outreach this month, we reached the slum of Katanga. Katanga is a slum community about three Kilometers from Kampala city. It's part of Makerere community. The community harbors Marijuana –smoking hooligans, who rob people moving through to their homes owning to its being notorious for crime and hooliganism.  From the high rate of crime that characterizes the area to the children abandoned by the parents who spend most of their time in drinking joints, the community has accommodated all.  This community is home to low-income earners including petty traders, taxi touts, food vendors, local brew dealers and casual laborers attributing to the high level of poverty and slummy environment. The community accounts for one of the highest numbers of street children arising as a result of death, abandonment and mistreatment from their parents. These factors above have already lured the energetic slum dwelling youths into venturing in crime related activities like drug abuse, robbery, prostitution, demonstration and strikes, murder, child sacrifice, rape and defilement etc.
Through the film ministry, we engaged the community not only by showing the Jesus film but also distributed tracts and booklets and conducted a mini crusade through which we made an invitation for the youth and children to make Jesus their personal Lord and savior. A total of 327 children and youths from the slum came for the show and 213 gave their lives to Christ. 400 children booklets were distributed and a number of tracts.
THE PEER DISCIPLESHIP GROUPS
The Young Men Christian Association (YMCA) Wandegeya, Katanga Slum and Prisons
The past week has been tremendous in as far as the accomplishment of this program has been concerned. In partnership with The Mustard seed foundation, we have established our first Peer discipleship group in YMCA Wandegeya right here in Kampala. The group upon its first meeting had up to 15 students at the faculty of over 4,000 students and two weeks down the road almost 30 students have joined the group with number steadily rising. Through this program we are leading the participants in a bible study discipling program in which they are required to read at least three chapters a day and meet once a week in their discussion study groups to share their experiences and go through the study guide. Through these groups, the members have the opportunity to invite their friends especially the non believers, to join, get converted and disciple in the group and later invited to join the church a measure of reaching those who are not willing to come to church.  In line with this, we are set to have a campus crusade at the school premise in two weeks time.
We are underway starting a similar program in Katanga Slum. Together with the churches in the community, we look forward to engage the youth's and teens in the community in a similar program tailor made for the slums.  Through this program, we hope to establish clubs through which they will be engaged and be discipled to become better people in the community.  With the trainings underway and the grounds set for the activities through the different community activities like film shows and mini crusades already taking place, we believe to take effect as soon as possible beginning with a children's club and move to and teens/youth clubs in a measure to reach families and transform the community.
THE SCHOOL OUTREACHES 
As schools opened for the new term, we were privileged to be involved in two school outreaches. This month, we managed to reach two schools within Kampala namely Family Primary school and Good Hope Nursery and Primary school.
Family primary school is one that has joined a fleet of new schools reached this year. With doors open to do life skill lessons and establish a fellowship group in the school, we engaged the school through an evangelistic outreach on the school assembly where we ministered to 360 children and 13 teachers. Through the outreach we shared the gospel highlighting the finished work at the cross after which we invited the children to receive Jesus as Lord with 289 children and 6 teachers making the decision. We are set to start a discipleship program at the school through one of the teachers and also continue with life skill programs for the upper class.
Talking of life skill lessons, we resumed with the program at Good Hope Primary school with a review of the lessons done in the previous term. Through this, we started a discipleship program of the 17 stories for about 185 children from the lower class. This program is already underway with teaches participating in the implementation process of the program.
At least 400 booklets and 30 tracts were through this program.
THE HIDDEN CHILDREN
Mercy link believes that people with disabilities are an integral part of the society. We believe children with disabilities have the potential to lead a fulfilling life and to contribute to the social, cultural and economic vitality of their communities. This belief has therefore build a foundation to support and advocate for children/people with disabilities through its arm called "Hidden Children".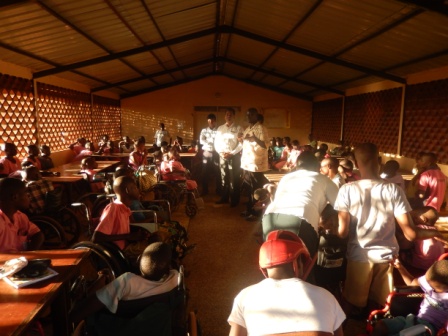 This month, we had the privilege to partner with the Indian Community in Kampala and had an outreach to the children at the school. Through the initiative we had the privilege to donate humanitarian items to the children and share a number of ideas and encouragement with the children. This mission was meant to build hope and self confidence in the children.  At the end of the outreach, the children had the privilege to share with the visitors o different topics and dine together to build abound between themselves. We were privileged to be a bridge between the two.
We have also been instrumental in building skills in the children this month through our life skill program in which we shared a number a number of topics ranging from Respect, God Manners, Sexuality and Time Keeping. These skills we believe are helping them cope up with the challenging trend the world today is operating on. About 168 children have benefited from this program this month.
THE PRISON OUTREACH
This month, we have had the privilege to reach out to four prisons of Maluku in Mbale, Kasangati, Murchison Bay and Bugungu Prisons. These outreaches have been evangelistic but also emphasizing the discipleship in the prisons where the discipleship programs are running. Through thes outreaches, we have shared the gospel with at least 6,536 inmates with 2,135 giving and recommitting their lives to Christ. We have also given 96 bibles in English and Luganda, tracts and booklets for them to read. Coupled to this, we have also given a number of humanitarian items to improve on their day to day living. We thank God for you for its your generous support enabling us reach the inmates.
PRAISE REPORT
Professor Charles Wambebe
Mr. Charles Wambebe was a professor of Pharmacology at Ahmadu Bello University, Zaria, Nigeria and Georgetown University Medical Centre, Washington DC, USA. He worked with the WHO and also served as Pioneer Director General of the National Institute for Pharmaceutical Research and Development, Abuja, Nigeria. Professor Wambebe received many international and national awards including The Academy of Science for the Developing Countries (TWAS) prize in Medical Sciences and Building Scientific Institutions in Africa. Furthermore, Professor Charles Wambebe is a Fellow of TWAS, Africa Academy of Science, Nigeria Academy of Science, among others. In a vision in 2007, the Lord called Professor Wambebe into Apostolic Ministry and commanded him to plant churches starting in villages in Uganda. The Lord also directed that the core of the ministry would be discipleship. In obedience to the call by God, he obeyed and launched Rock Church Ministries in Kiyindi Village, Uganda in April 2008 with a discipleship seminar for about 100 Pastors and Church elders. Subsequently, Rock Church Ministries has been launched in Kenya, South Africa and Nigeria with over 42 branches.
Through a training program with alpha Uganda, we got in touch with the pastor of Rock Church Bugiri who later introduced us to the professor. We have been privileged to partner with Professor Wambebe, launching children and youth ministries in the different Rock Churches around the country. Coupled to this, together through the discipleship, crusades and Community film ministry, we are helping strengthen and launch new Rock ministry Churches in the communities. Today, we have helped the ministry secure a permission letter to different prisons and we are grateful to partner with such a selfless ministry.
PRAYER REQUESTS
We kindly request your prayers in the following areas  
1.    We still believe God for finances to facilitate our programs and a ministry car.
2.    As school commences, we are faced with a challenge of raising fees for some of the children under our girl child and Hidden children programs. Pray for partners in this area who will commit themselves to stand with these children.
3.    The Month of October is an engaging month for us in whom we are looking forward to penetrate the new districts of Masaka, Luwero, Masindi and Mpigi districts. We also look forward to engage new schools in and outside Kampala. Please pray for Gods direct. ion and favor
TARGETS
As we await answers to the prayers stated above, we look forward to attaining the following targets for the next quarters.
·         Reach out to 12 new schools in and outside Kampala
·         Train at least 150 leaders in children and youth Ministry
·         Engage 5 new communities
·         Do follow-ups in two districts.
We thank God for the generous contribution of our partners towards the success of the program financially and through prayer. As you realize all these programs require finances without which, we may not fully accomplish that that we ought to do. Please do pray with us for even more partners that we may be in position to reach even more communities. If you would like to support this ministry in any way, do not hesitate to contact us through any of our links provided. For any financial support, please kindly Click on the DONATE button on the top of the page for detail.
May the good Lord continue to bless and increase you.
Yours faithfully
Robert Sebunya – Team Leader