Greetings
I bring to you with much eagerness and gratitude this report concerning Mercy Link Foundation Africa's April 2014 ministry report. I pray all is fine and that you are finding fulfillment in all that you are doing. Its during such a time as this that we share with you highlights of the great and awesome community based testimonies that the Lord has helped us achieve through the month with this month being no exception. Through this month among many other things, the Lord has blessed us with the privilege to give back to the communities through our humanitarian arm, empower communities, share the word of God, and above all connect with new partners as we pursue the great commission of making disciples of all nations. I strongly believe that you will feel as much joy as I and the team do as you read through this report because your generous contribution has been the reason as to why we have been able to achieve this. My prayer is therefore that you will delight in your efforts and contribution towards this ministry.
COMMUNITY SHOE DISTRIBUTION CAMPAIGN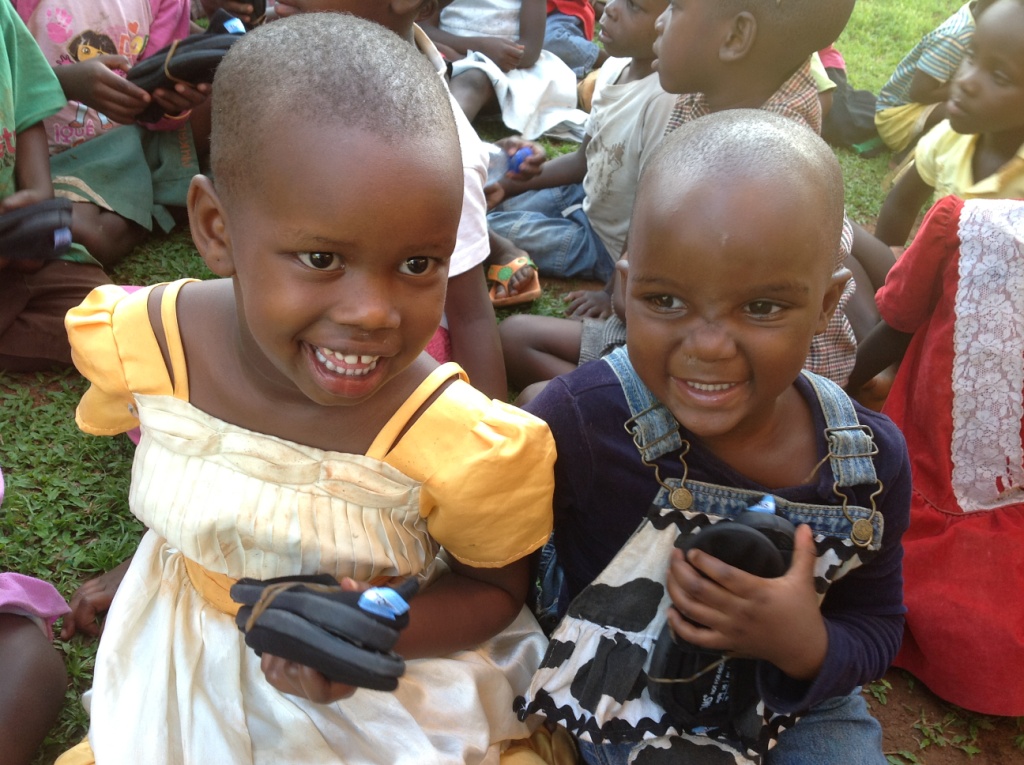 This month has been so rewarding to this ministry. We have had the privilege to partner with STRIDES for Health a USAID funded project in Uganda in a shoe distribution program to some of our community projects. This initiative is a result of STRIDES partnership with TOMS a US based shoe manufacturing company to strengthen and increase access and demand for nutrition services through provision of demand side incentives such as shoes. Because of our great track record concerning community based programs and evident results, STRIDES considered us potential partners to engage in the campaign and availed us with shoes to distribute though our different community programs.
A total of 1,647 pairs of shoes were availed to be distributed in five different communities where we have programs running. These included Bulange/Nabulagala in Kampala, Mafubira, Kitigoma, Masese and Kirinya Prison compound in Jinja. Through this program, we aimed at helping cub one of the greatest health challenges especially in Jinja; jiggers. These communities were priority on our choice list because of the different health and economic challenges they face causing the children to suffer a number of emotional, physical and health related challenges ranging from Jiggers, skin diseases, to trauma and different psychological problems. It's a common phenomenon to find children in these communities walking half naked and barefoot. These practices and challenges have been carried to the school as well where over half of the children come to school barefooted. Two schools of Day Star and God's Gift Primary Schools were beneficiaries of the distribution with 680 children acquiring a new pair of shoes in both schools. The community clubs of Bulange, Kirinya and Mafubira were the other three beneficiaries.  At kitinya a total of 215 children received shoes at the Kirinya Prison compound. The beneficiaries' comparison of both children to the wardens and the inmates in the Women prison who live with their children inside the prisons. With less visits and barely anything to support their children on, this program came as a blessing to the women in the prisons. The prison wardens were equally jubilant as they witnessed their children receive a pair of shoes each during the Easter weekend. "You have relieved us from the burden of buying shoes next term" was a comment from one of the wardens. We believe this initiative will create a lasting impact in the lives of the children, inmates and wardens having met them at their point of need.
Through this program, we had the opportunity to add value to the community club project distributing 967 pairs of shoes, saving children from the different health issues the communities face ranging from jiggers, accidents, and other health related issues associated with not wearing shoes.  We thank God for this opportunity to add value to the communities.
THE SCHOOL OUTREACHES
Through our school outreach this month, six schools were lined up on our program. These included Day Star, God's Gift, Makindye Standard, Luwaga, Kibuye and Faith Primary schools.  Four of these are new schools whereas Day Star and God's Gift primary schools are two of the schools reached where we already have our programs running.
Faith Primary School
Located in Nabulagala, Faith primary school is one of the most influential schools found in the heart of this slum community. Located adjacent to Mengo Hill the school lies in a community located in a valley surrounded by hills from all sides that also act as the center of drainage for Kasubi and Namirembe as well as surrounding Mengo areas.
At the school we shared the salvation story being that it was our first outreach to the school. With the aid of visuals we narrated the God's plan of salvation from the story of creation, the fall of man to coming of Jesus and resurrection of Christ showing the purpose of the birth and death of Jesus. At the end of the sharing when the invitation was made to receive Christ, 465 children raised their hands to make a commitment to the Lord. We distributed a consignment of tracts and booklets to the children to aid in their discipleship and better understanding of the commitment they had just made. The school administration gave us an invitation to continue with the program in the school every month something we are glad to do. We look forward to start some of our discipleship programs in this school.
This was almost the same trend in the rest of the new schools apart from Day star and God's Gift where besides the sharing we did a shoe distribution. Through this ministry this month, 7,342 children were reached and 3, 677 children committed their lives to Jesus. 7, 350 booklets and 200 tracts were distributed to the children and school staff. We thank God for this initiative.
THE COMMUNITY FILM MINISTRY
Busega and Masese are two communities we have reached through this ministry. Busega located in Kampala and Masese in Jinja have been our area of focus this Easter season where we have taken engaged the community in the Jesus film show. Through this ministry, we showed the Jesus movie to 1,057 people, distributing tracts and booklets to children and adults in these communities.
Masese Community
This community covers a wide scope of Jinja town. We have had the privilege to show this movie in almost most parts of this community. This Easter season, we took it into consideration yet a again to engage a apart of this community. The show attracted up to 873 people from this community who gathered to watch the Jesus being show that evening. With the movie running the team engaged in the distribution of Christian literature ad tracts to the viewers from the community. At least 500 children booklets and 400 tracts were distributed that evening.
As the movie commenced, we engage the viewers in a mini crusade inviting them to give their lives to Jesus. 523 people committed their lives to Christ after the invitation to whom we distributed the first time believers tracts. After this we directed them to the community church for discipleship. This was done in conjunction with the community pastor.
Busega Communtiy Film Show
Unlike the former, this movie show was specifically organized for the children in the community. Through partners on ground, we mobilized the community children for a GODMAN movie show through which we were to display the life of Jesus and the plan of salvation of man in a child friendly way.
The venue set was in one of the community churches where these children gathered to watch the movie. Up to 184 children gathered to watch the movie. 200 booklets were distributed after show to build on what they had watched and 123 of the children gave their lives to Christ majority of who were non church going children. As a follow up measure to disciple these children, we look forward to setting up a community Bible club to implement this.
THE COMMUNITY EMPOWERMENT PROGRAMS
Through our community empowerment programs this month we had the opportunity to add value to yet another organization; MYDEL. MYDEL (Mengo Youth Development Link) is an organization working out of the slums in central Kampala who strive to enhance the education and sporting talents of the local kids. MYDEL was started in the year 2000 out of the slums in central Kampala. The purpose of the organization is to bring kids from the streets into a family environment where they can develop their sporting and educational potential to help them achieve successful futures free of poverty, disease and crime. MYDEL strives to see that every child who knocks on their door is taken in and their life changed for the better. They see that the best reward is watching one of their children succeed. The organization follows an old but poignant saying: "Winners are not those who never fail, but those who never give up "As a non-profit organization MYDEL relies on help from the local community as well as international volunteers and sponsors.
Besides the sports bit of the organizations program, Mr. Pascal Lutaya the founder of the organization has taken on the initiative to set up a resource centre for MYDEL to benefit the children and the community at large. Being that the organization relies on donations from well-wishers and local community, we decided to provide a helping hand towards the success of this project.  We donated up to 200 text books and 600 children Christian literature towards this project and also an Apple desktop computer to help in the effect running of the project. Having worked together on a number of projects, we felt this was time to support a brother in need and with the resource centre also complete, we believe this will impact the community and attract even more street children to the centre. 
THE LEADERS VISION CASTING TRAINING
This month we have had the opportunity to add a new district to the list of our scope of operation. Kamuli district has been one of our targets from the beginning of the year and we are privileged to have finally broken ground in this district. Unlike the districts of Jinja, Iganga and Mbale, Kamuli has not been a great beneficiary of many community based program with some of the casuses attributed to the bad roads leading to the district. This however is being compromised through the construction of the road network to the district. Through Holy Ghost miracle Centre Kamuli, were able to establish a partnership and organize for a leader's vision casting training.
The training attracted leaders from 12 different churches ranging from pastors, children and youth leaders, and administrators from the same churches. Through this training, we shared with the leaders on the call to transform communities and bring change in the lives of these wanting communities. We shared different strategies the church can apply to win the trust of the communities and attract them to church. We also shared testimonies of how different communities have been impacted through the children and youth ministries and how the churches in Kamuli can use the same strategies to reach and impact families in their own communities. By the end of the vision casting training, 22 leaders had been empowered to start planning for their churches and congregation.
Having experienced the impact of the training, the leaders proposed for another training to be done the following month. With this being discussed, the leaders committed to alert more churches so as they can implement these programs as a team. Children and youth ministry training was the first training to be conducted a proposal the church leaders seconded citing a lag in this ministry. To second the value of children and youth ministry as discussed during the vision casting training, Pr. Emmanuel one of the resident pastors shared his testimony of how his ministry has been impacted because of the intervention of children.
Pr. Emmanuel's Testimony
"When I first realized the Lords call on my life to start and Pastor a church, I didn't know how to start. However because I knew He had told me so, I was sure of His help. The ministry started struggling even before it was established. Together with my wife we started a church in the middle of this community something that didn't please the devil. Immediately we started experiencing opposition. With a total of 40 members attending church, there was neither an increase nor decrease in the number of our flock not knowing why. We later on discovered that there were people moving in the community door to door trying to discourage people from joining the church. We prayed about this thinking we had met our greatest adversity not until what would seemingly be the last member joined the church.
She was a girl in her late teens probably 17 who having given her life to Christ decided to become part of the congregation. Little did we know by the time she joined, she was already pregnant. Three months down the road, she could not hide her pregnancy something that would later lead to the collapse of the church.  With this issue in place, these people went around telling everybody how the church was responsible for her pregnancy something that brought hatred and discouragement to the members.  In a period of less than a month, all the members had quit and joined other churches leaving me and my wife." Having no flock to pastor, I engaged in praying and praising and worshiping alone in the church building everyday a practice that would later attract my first ne congregants; children.
On this fateful day I sat drumming while praising aloud something that attracted these two little girls. On seeing me do what I was doing went ahead to invite their friends who came and joined in the singing. That's how the church begun again. My first two members; children led to the rebirth of the ministry. Today the two little girls have grown and are married and I still attribute the success of this ministry to them. I know God used them to raise the ministry and that's why I value children ministry and I strongly believe children are equally important in the kingdom of God.
Having shared this testimony, Pr. Emmanuel took it upon himself to lead the mobilization team for the next children ministry training.
Our Ultimate goal is to help and develop the distressed, needy, neglected and vulnerable people in Uganda and Africa as a whole spiritually, socially and economically by empowering them through capacity building and providing necessary knowledge for relevance, responsibility and sustainability. We believe through these programs, we are achieving this goal and with your support, we are yet to see even more communities reached and transformed.
PRAYER REQUESTS
We are grateful for your continued support through the first quarter of the year. We strongly believe that all we have together achieved is because of the continuous prayers you have offered towards this ministry. Men may spurn our appeals, reject our message, oppose our arguments, despise our persons; but they are helpless against our prayers. –J. Sidlow Baxter
There are a number of prayer points that we are focusing on this quarter and would like to kindly request you to stand with us in. These include;
1.   We believe God for a Mercy Link Premise. A premise that will accommodate a training center, The Mercy Link offices and a lounge.
2.   Sponsorship for the school dropouts who need school fees in order to enroll for the High school and Vocational Studies. 
HOW YOU CAN BE A PART OF THIS.
You can be a part of this by either giving a onetime donation or engaging in the monthly, quarterly or annual support programs. This can be done through PayPal or any of our bank accounts listed in the DONATE section.
We are grateful for you generous support towards this ministry and thank God for every contribution you make towards the progress of this ministry and our prays for you are filled with gratitude and blessings as we pray daily.
Thank you again
Blessings
Sebunya Robert

Director Mercy Link Foundation Africa